Dental Implants — Ponte Vedra Beach, FL
Rebuild Missing Teeth from the Roots Up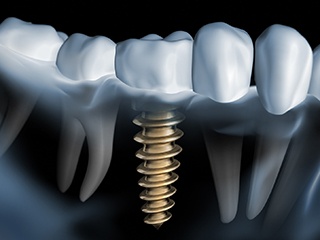 For many years, the only ways to replace missing teeth were dentures or bridges. While these options are certainly better than nothing, they were not nearly as stable, comfortable, or functional as natural teeth. Now, we can rebuild missing teeth from the roots up with dental implants in Ponte Vedra Beach. Dr. Harth and Dr. Townsend are uniquely qualified to treat the residents of Ponte Vedra Beach and the surrounding communities with dental implants, having completed hundreds of hours of post-graduate education in the placement and restoration of implants. They have completed hundreds of cases for many satisfied patients and have studied under some of the finest teachers in dentistry, including Carl Misch, Frank Spear, and Peter Dawson.
At Ponte Vedra Complete Dentistry, we only use the finest dental implants, abutments, and crowns available. There are hundreds of different brands of implants available, a few of which are substantially better than the others. We only use implants from companies with a proven record of success over years of studies and analysis. When you visit us for dental implants, you can rest assured that you're replacing your missing teeth with the next best thing. To get started, give us a call today.
Why Choose Ponte Vedra Complete Dentistry For Dental Implants?
Entire Treatment Completed In-Office By Highly Trained Specialists
Permanently and Beautifully Replace Any Number of Missing Teeth
Numerous Financing Options Available, Including CareCredit, Citi, and More
What Are Dental Implants?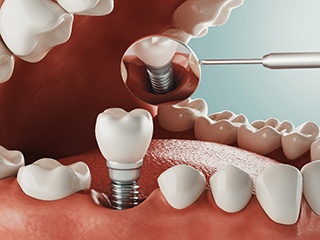 A dental implant is a small titanium cylinder that is surgically placed beneath the gumline in a minimally invasive procedure. This will function to replace the roots of a missing teeth, which is a feature neither dentures or dental bridges offer. After it is inserted, a remarkable process known as osseointegration takes place over a period of a few months. Since dental implants are made of high-quality biocompatible materials, they are designed to fuse and integrate into the surrounding bone tissue. The implant thus acts as a substitute for the root of the missing tooth. We replace the visible portion of the tooth with a custom-made dental crown, bridge, or denture for seamless results that look, feel, and function just like natural.
---
Benefits of Dental Implants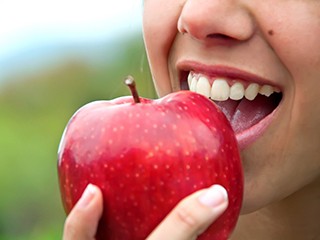 Since they are fused with the bone, they are permanent, unlike dentures and bridges.
Implants are fixed in the mouth, so they do not inhibit proper speech, comfort, and eating abilities.
Dental implants can restore 70% of more of your natural biting force.
Implants can act as support for dentures so the denture does not rock, slip, or move in the mouth.
Patients' self-esteem is much-improved with implants.
Placing a bridge requires that we significantly modify the structure of your remaining natural teeth. Dental implants in Ponte Vedra Beach don't need the support of abutment teeth, which allows us to preserve as much healthy dentition as possible.
An implant stimulates the jawbone, helping to keep it dense and strong. A traditional bridge or dentures does not support bone health, which typically leads to jawbone deterioration.
Since dental implants provide comprehensive tooth replacement, they look and feel just like natural teeth.
An implant has the potential to last for 30 years or longer. The crown on top of it is likely to last for a decade or longer. Dental bridges and dentures need to be replaced every 5-10 years.
Placing a bridge requires that we significantly modify the structure of your remaining natural teeth. Dental implants in Ponte Vedra Beach don't need the support of abutment teeth, which allows us to preserve as much healthy dentition as possible.
---
Who Dental Implants Can Help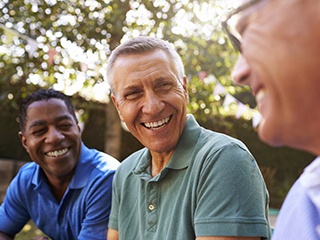 Nearly everyone that is missing at least one tooth is a candidate for implants. There are two factors that can quickly determine if dental implants are right for you: bone strength and oral health. First, if your bone is weak or deteriorating, this will signal our team that you either need a bone graft before getting dental implants or another form of tooth replacement treatment. A strong jawbone must be able to hold up the implant and its custom restoration. If Dr. Harth or Dr. Townsend believe you could benefit from a bone graft, you can expect your timeline for a new and improved smile to take a bit longer, but it's absolutely necessary if you want a stable, permanent smile.
If it's not your jawbone that is the problem but your oral health, there are steps you'll need to take to address the problem before you receive your dental implants. If you have gum disease or tooth decay, it will be imperative that you have the necessary procedures to eliminate these issues. Otherwise, it could negatively impact your implant after it has been placed.
Missing 1 Tooth
For those missing one tooth, an implant supported dental crown will be recommended. A custom crafted, tooth-colored dental crown is attached to an implant post, recreating the root and crown of missing teeth.
Missing Multiple Teeth
As an alternative to a traditional bridge, you can enjoy the stability of dental implants. 1 to 2 implant posts anchor it to your jawbone, so there is no need to reshape your adjacent teeth. The posts act as new roots to stimulate your jawbone to protect your remaining natural teeth from complications.
Missing All Teeth
If you are tired of living with the irritation and hassle of traditional dentures, you may be a candidate for full mouth replacement using dental implants. Traditional dentures rely on suction or an adhesive to hold them to your gum tissue. Implant dentures use the security of the implant posts. On average, 2 to 6 posts anchor your denture to your jawbone, so you will never need to worry about slipping or irritation. Special fixtures are placed on each post to attach your custom-made denture.
All-on-4 is another type of implant denture. This specialized method uses 4 implant posts to support a full custom-made denture. Often, we can fit you with a temporary denture the same day as your placement surgery, so you do not need to go without your teeth. After you have healed, your final denture is attached to your posts.
---
Understanding the Cost of Dental Implants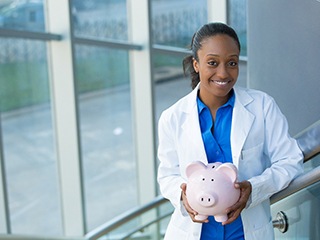 In order to provide an accurate estimate for the out-of-pocket cost for dental implants in Ponte Vedra Beach, we'll need to schedule a consultation appointment. Simply call our dental team, and we'll schedule your visit. In addition to providing an estimate for your unique tooth replacement plan, we'll also evaluate your dental insurance coverage to help you make the most of any available benefits. While dental implant supported tooth replacement often comes with a higher price tag than other tooth replacement options, it's important to keep in mind that this investment will last for decades compared with other restorations that need to be restored every five to ten years. The benefits of long lasting, natural looking, and flawlessly functioning implant supported replacement teeth will more than exceed their monetary value.
Types of Dental Implants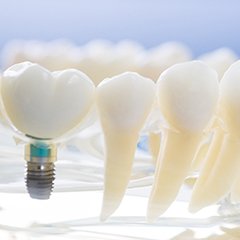 It is important to understand that no two dental implant cases are exactly alike. Patients who are missing a single tooth need just one dental implant. Logically, that costs less than using dental implants to replace an entire arch of lost teeth. Also, there are various dental implant techniques that can have a bearing on price. During your consultation, your dentist will begin to design your custom treatment plan, and our team will provide you with a cost estimate. Feel free to ask any questions you may have about the price information we give you.
The Stages of Dental Implant Treatment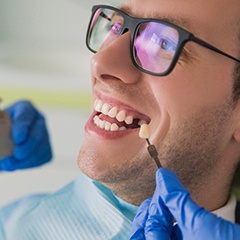 Dental implant treatment takes place across multiple stages, each of which has its own unique price. Because some stages of the process happen weeks or months apart, you will have time to plan your budget for each portion of your journey. Some of the steps in your treatment process may include:
Your initial consultation
Preparatory treatment, such as gum disease therapy, extractions, or bone grafting
Your implant placement surgery
Placement of your implant abutments (small connector pieces that will hold your new teeth in place)
Design and placement of your implant-supported crown, bridge, or denture
Are Dental Implants Worth the Investment?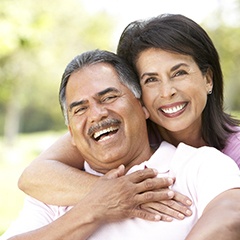 Most patients who receive dental implants would wholeheartedly agree that they are a worthwhile investment! They offer more and greater benefits than any other form of tooth replacement. For example, they provide an incredibly strong bite force, and they prevent the deterioration in the jawbone that often occurs after tooth loss. Plus, they have the potential to last a lifetime. Their longevity may make them a much better long-term monetary value than other tooth replacement options that have a lower upfront cost but that need to be replaced every few years, such as traditional dentures.
Does My Dental Insurance Cover Dental Implants?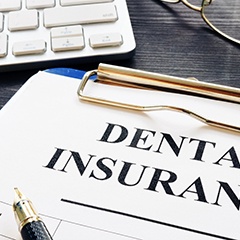 Dental insurance policies vary greatly in their approach to dental implants. Some of them cover half the cost of implants, up to the amount of the plan's annual maximum. Others do not cover the implants themselves, but they may cover preparatory treatments or the final restoration. Our team will help you navigate your insurance and get as much out of it as possible. We can also help you apply for low-interest financing through CareCredit, Community First, or Citi Health Card.
---
Dental Implant FAQs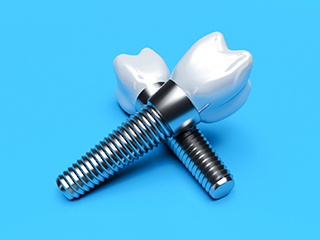 Whether you're preparing to have dental implants placed or you are still trying to decide if this method of tooth replacement is right for you, we understand that you may have many questions. At Ponte Vedra Complete Dentistry, we want you to feel confident and comfortable about your dentistry decisions, which is why our team has compiled a list of dental implant FAQs below. If you still have concerns or questions about dental implants or any other service we offer, we invite you to contact us.
Does Dental Implant Surgery Hurt?
After your surgery is complete, you can expect some soreness and tenderness around the implant; however, this is completely normal. The actual process of having implants placed will not hurt in any way. This is because our team of dentists will administer anesthesia prior to beginning the surgery. This will make you comfortable and put you at ease, allowing you to feel no pain during the procedure.
Can I Switch from Traditional Dentures to Implant Dentures?
Plenty of individuals with traditional dentures have made the switch to implant dentures. After discovering the benefits of a tooth replacement solution that is permanent and offers greater stability, many patients are pleased with their new prosthetics. To determine if you are a good candidate for implant dentures, Dr. Harth or Dr. Townsend will need to evaluate the status of your jawbone and overall oral health. If too much time has passed since you've lost your teeth and your jawbone has deteriorated, it will be necessary to undergo a bone graft to provide the extra support your jawbone needs. No matter if you need additional dental work or not, making the transition to implant dentures is a real possibility for most patients.