Porcelain Veneers in Ponte Vedra Beach
Ponte Vedra Complete Dentistry is proud to provide residents of Ponte Vedra Beach and surrounding communities with a variety of restorative and cosmetic dentistry services. Veneers are a segment of cosmetic dentistry that can create aesthetically pleasing smiles by correcting the shapes of teeth with a porcelain shell. Although the shell is very thin, the porcelain can cover many different smile imperfections, including unsightly gaps between teeth, crooked teeth, chips and cracks, stubborn stains, and many other problems. These problems can be fixed with only one cosmetic dental procedure. Many of the "Hollywood" smiles you see are the product of veneers!
---
Are Veneers Right For Me?
Veneers can treat several flaws, including the following:
Discolored Teeth: Some stains cannot be removed through regular teeth whitening methods. Tetracycline staining during development and other drugs, excessive fluoride ingestion, and the presence of large resin fillings that have caused tooth discoloration are some of the staining causes that veneers can be effective at treating.
Worn Teeth: This can be caused from grinding, clenching, or even normal eating and aging.
Chipped, cracked, or Broken Teeth
Misaligned, irregularly shaped, and uneven teeth
Large gaps that are not correctable with braces
---
Steps for Veneers
Porcelain veneers are generally a two-step process. At the first appointment, the dentist and the patient will consider the goals for the procedure and how veneers can help. This diagnosis and treatment plan is important to determine the course of treatment. When the proper plan is agreed upon, the dentist will remove a small amount of tooth structure for the veneers. The dentist will then take an impression of the reduced teeth and send it to the lab along with the instructions and treatment plan. During the time the lab fabricates the veneers, temporary veneers can be placed if the reduced teeth are unsightly.
---
Veneer Placement
After the lab fabricates the veneers, the dentist will place them over the tooth to observe the shape and shade. Adjustments can be done at this point. Once the proper shape and shade are verified, the dentist bonds the veneers over each tooth. Many factors have to be taken into consideration in the determination of a successful veneer restoration, including facial shape, aesthetics, and speech patterns. Once the veneers are placed, the dentist will polish them and the patient is ready to go.
---
Do Veneers Require Special Care?
Veneers should be cared for just as the natural tooth would. Brushing, flossing, and a proper diet are as important for restored teeth as they are for natural teeth. Veneers are stain resistant but foods and drinks that are known to cause stains should be avoided.
---
Veneers FAQs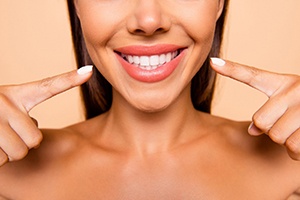 If you are moving forward with veneers in Ponte Vedra Beach, you have made the decision to fully transform your smile using one of the most popular cosmetic treatments available. Congratulations! At Ponte Vedra Complete Dentistry, our team wants you to feel confident and comfortable in your decision to pursue this form of treatment, which is why we've compiled some frequently asked questions for you to review before your appointment. Whether you want to know more about how they impact your natural teeth or ways to maintain your new appearance, we've got the answers for you.
How can I match my natural teeth color to my veneers?
If you choose to have veneers placed on certain teeth but not all of them, it is possible to undergo teeth whitening after completing your veneer treatment. Some individuals opt to have their veneers be a shade brighter than their natural teeth, so if you are suffering from stains or discoloration, your natural teeth can be treated with in-office or at-home whitening.
Are there foods I should avoid with veneers?
While it is possible to eat most foods you enjoy, it is best if you eat only soft foods in the first few days after receiving your new smile. Once you become more accustomed to your veneers, you may begin to incorporate additional foods and beverages; however, you will need to avoid hard, crunchy foods if possible or at least cut them into smaller pieces (i.e. apples, hard nuts, caramel, popcorn) to avoid pulling off or cracking a veneer.
What should I do if a veneer cracks or comes off?
This may seem concerning and worth panicking over, but don't worry! Your dentist in Ponte Vedra Beach can work to save the veneer as long as you bring it with you to your appointment. Avoid using at-home or store-bought products to put it back into place. While waiting for your appointment, remember that your tooth may be more sensitive to hot or cold temperatures until the veneer can be replaced.
What bad habits should I try to stop before receiving veneers?
If at all possible, try to avoid biting your nails, smoking, or using your teeth as tools. This additional pressure you place on your teeth when trying to open a package or tear off a tag from new clothing can cause small cracks and fractures in the veneer, making it more vulnerable to a potential break in the future. Also, never chew on ice or inanimate objects (i.e. pens, pencils), as these habits can do the same thing to your teeth as using them as tools.
Will insurance cover the cost of veneer placement?
Unfortunately, no, most dental insurance companies do not agree to cover cosmetic treatments. Why? Because they are not considered a necessity. While there may be a few companies that will pay a portion of the cost, the only way to know for sure is to contact your insurer. If they do not cover veneer placement, you can speak to a member of our team who can help identify available payment methods that will help you stay within your budget.