Veneers – Ponte Vedra Beach, FL
Disguise What You Dislike About Your Smile
Is there anything about the appearance of your teeth that you wish you could change? Our team is eager to help you accomplish your aesthetic goals for your smile! To that end, we are a cosmetic dentist in Ponte Vedra Beach that offers a range of transformative services, including veneers. This relatively fast and simple treatment can disguise a range of imperfections in teeth and provide results that last for many years.
---
What Are Dental Veneers?
Veneers in Ponte Vedra Beach are a segment of cosmetic dentistry that can create aesthetically pleasing smiles by correcting the shape and color of teeth with custom-designed shells (which are usually made of porcelain). Although the shells are very thin, the porcelain can effectively disguise many different smile imperfections, including unsightly gaps between teeth, crooked teeth, chips and cracks, stubborn stains, and many other problems.
Veneers are one of the most popular cosmetic treatments amongst celebrities because the process is relatively fast, the porcelain is extremely durable, and the results are incredibly natural-looking.
---
The Process of Getting Veneers
The veneers process typically requires at least a few appointments. During your consultation, our team will learn about your goals for your treatment so we can start planning our approach to your smile makeover. Be sure to let us know which teeth you would like to transform, as well as if you have any preferences when it comes to the shape or color.
The next step is to prepare your teeth by removing a bit of their enamel. This ensures that the veneers won't make your smile look bulky or unnatural. We'll take impressions of your teeth and use those to design your veneers.
While a laboratory creates your permanent veneers, you will wear temporary ones. Later, you will return to our office so we can verify the fit of your permanent veneers before we bond them to your teeth.
---
The Benefits of Veneers
Some of the top benefits of veneers include:
They are durable. Veneers can last for 10 – 15 years or longer before they need to be replaced.
They resist stains. Porcelain is nonporous, which means that it does not absorb pigment like natural tooth enamel. Veneers can maintain their original beauty for many years!
They are versatile. You can use veneers to change the look of just one or two teeth, or you can use them to completely renew your smile.
They are completely customized to you. We carefully consider your age, gender, and facial features as part of the veneer design process.
Would you like to learn more about your cosmetic dentistry options? Contact our team today to schedule your consultation. We look forward to serving you!
---
Veneers FAQs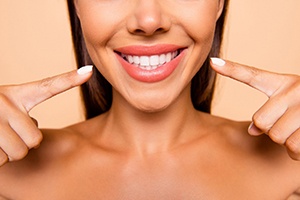 If you are moving forward with veneers in Ponte Vedra Beach, you have made the decision to fully transform your smile using one of the most popular cosmetic treatments available. Congratulations! At Ponte Vedra Complete Dentistry, our team wants you to feel confident and comfortable in your decision to pursue this form of treatment, which is why we've compiled some frequently asked questions for you to review before your appointment. Whether you want to know more about how they impact your natural teeth or ways to maintain your new appearance, we've got the answers for you.
How can I match my natural teeth color to my veneers?
If you choose to have veneers placed on certain teeth but not all of them, it is possible to undergo teeth whitening after completing your veneer treatment. Some individuals opt to have their veneers be a shade brighter than their natural teeth, so if you are suffering from stains or discoloration, your natural teeth can be treated with in-office or at-home whitening.
Are there foods I should avoid with veneers?
While it is possible to eat most foods you enjoy, it is best if you eat only soft foods in the first few days after receiving your new smile. Once you become more accustomed to your veneers, you may begin to incorporate additional foods and beverages; however, you will need to avoid hard, crunchy foods if possible or at least cut them into smaller pieces (i.e. apples, hard nuts, caramel, popcorn) to avoid pulling off or cracking a veneer.
What should I do if a veneer cracks or comes off?
This may seem concerning and worth panicking over, but don't worry! Your dentist in Ponte Vedra Beach can work to save the veneer as long as you bring it with you to your appointment. Avoid using at-home or store-bought products to put it back into place. While waiting for your appointment, remember that your tooth may be more sensitive to hot or cold temperatures until the veneer can be replaced.
What bad habits should I try to stop before receiving veneers?
If at all possible, try to avoid biting your nails, smoking, or using your teeth as tools. This additional pressure you place on your teeth when trying to open a package or tear off a tag from new clothing can cause small cracks and fractures in the veneer, making it more vulnerable to a potential break in the future. Also, never chew on ice or inanimate objects (i.e. pens, pencils), as these habits can do the same thing to your teeth as using them as tools.
Will insurance cover the cost of veneer placement?
Unfortunately, no, most dental insurance companies do not agree to cover cosmetic treatments. Why? Because they are not considered a necessity. While there may be a few companies that will pay a portion of the cost, the only way to know for sure is to contact your insurer. If they do not cover veneer placement, you can speak to a member of our team who can help identify available payment methods that will help you stay within your budget.