Invisalign – Ponte Vedra Beach, FL
The Clear Path to Straighter Teeth
Would you like to straighten your teeth but dread the idea of getting traditional metal orthodontics? Many of our patients had never considered regular braces but are now happily and comfortably improving their smiles with Invisalign® in Ponte Vedra Beach. This convenient and discreet treatment is ideal for most image-conscious individuals who are ready to embark on their journey to improved oral health and enhanced facial aesthetics. Contact us today to schedule your Invisalign® consultation.
How Invisalign Works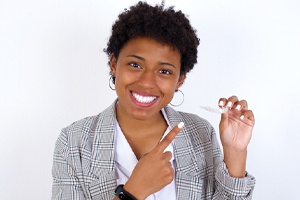 Invisalign® is a nearly invisible way to straighten your teeth without traditional braces. It uses a series of clear, removable, custom-made aligners to apply gentle pressure to the teeth in order to shift them into their proper positions. You must wear each aligner for about two weeks, 20 – 22 hours each day, before you move on to the next aligner in your series. Throughout your treatment period, you'll visit us every 4 – 6 weeks so we can check on your progress and make sure you have all the aligners you need. The total treatment time averages 6 – 15 months, and the average number of aligners used is 12 – 30.
Indications for Invisalign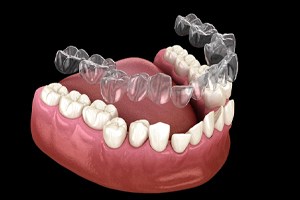 Invisalign® is able to address most cases of mild to moderate dental misalignment, including many of the same issues that traditional braces are typically used to treat. Here are a few examples of the problems that Invisalign® is capable of correcting:
Crowded Teeth
Invisalign® can shift the teeth so they are no longer overlapping. This can improve your bite and reduce your risk of tooth decay. In some cases, extractions work along with the aligners to achieve optimum results.
Gaps Between Teeth
Gaps between teeth leave your gums vulnerable to damage from food — and many people dislike the way such gaps look. Invisalign® can move your teeth closer together so you can achieve a healthier, more confident smile.
Bite Misalignment
Malocclusion (a bad bite) can increase the risk that your teeth will break or suffer decay. It even increases the risk of TMD. Invisalign®, often with the help of other accessories, is usually able to correct cases of overbite, underbite, crossbite, and open bite.
The Benefits of Invisalign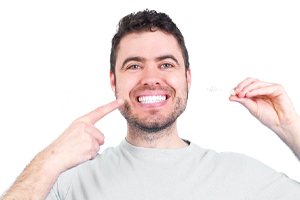 Convenience and discretion. Invisalign® is an ideal solution for adults who want to straighten their teeth and achieve a beautiful smile in a reasonable amount of time. The treatment even comes with no feelings of self- consciousness during treatment and only minimal impact on their busy schedule.
Comfort. Even though Invisalign® and traditional braces offer similar results, many adults just don't feel comfortable with the thought of having metal in their mouths. Invisalign is made out of smooth, barely noticeable plastic.
Easy oral hygiene. Because the aligners are removable, you can continue to brush and floss your teeth without using any special techniques or tools.
No dietary restrictions. Regular braces come with a laundry list of foods you should avoid. With Invisalign®, you simply remove your aligners at mealtimes and replace them after you finish eating.
How Much Does Invisalign Cost?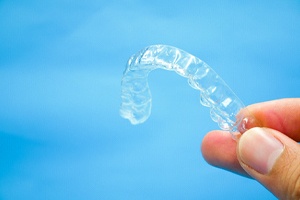 The cost of Invisalign® varies from case to case and depends primarily on how many aligners are needed. In general, it costs at least a couple thousand dollars. We can provide you with a price estimate when you visit your dentist in Ponte Vedra Beach for a consultation. We can also help you explore your payment options, including low-interest financing and possible insurance coverage.
Invisalign FAQs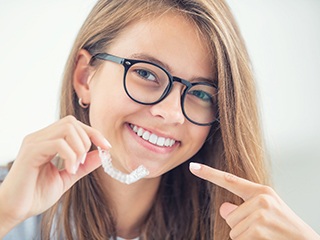 Whether you're getting Invisalign for yourself or your teenager, it's important that you feel confident and knowledgeable about the process. If you have any questions or doubts, let us know right away; we'll make sure you have a clear, complete understanding of the situation before you're asked to make any kind of decision. To help you get started, here are the answers to a few questions that many patients have on their minds when considering Invisalign.
What Kind of Orthodontic Problems Can Invisalign Correct?
Invisalign is often offered as a way to straighten your smile, which benefits both your oral health and appearance. However, other types of corrections can be made as well. In particular, the aligners can move teeth that are crowded together or spaced too far apart; these adjustments can balance the bite and make your oral hygiene routine much easier. Also, if your bite is misaligned in anyway (whether that means an overbite, underbite, crossbite, or open bite), Invisalign could correct the issue. Bear in mind that the effectiveness of clear aligners will be affected by how complex the problem is. During your examination, Dr. Townsend or Dr. Harth will need to decide whether or not you're a viable candidate for Invisalign?
What Should I Do If My Aligners Break?
If your Invisalign aligners become broken or cracked, check the damage; if the appliance is still intact and can be worn normally, it may be possible to simply continue your treatment as if nothing happened. Sometimes, though, the damage might be more extensive, rendering the aligners unusable. If that happens, call us right away to ask about next steps; depending on when the aligner was broken, we may recommend that you move on to the next one in the series. In other cases, you'll instead wear a previous aligner until a new one is made.
Will Invisalign Change the Way I Talk?
Some patients are concerned that Invisalign will affect their speech, but in reality, the impact will be very, very small; in fact, it's possible that you won't notice any changes at all! It is possible that you'll develop a lisp for the first couple of days, but this should pass once the mouth and tongue have had a chance to get used to the aligners. You can speed up this process by practicing the pronunciation of certain words; you may also find it helpful to read aloud.
Is Invisalign Comfortable?
Unlike metal brackets and wires that prod against the soft tissues in your mouth, Invisalign clear aligners are made out of smooth plastic, and they fit very snugly around the teeth. They may feel different at first, but once you get used to them, you'll hardly notice them throughout the day. It's normal to notice some soreness after getting new aligners; let us know if this discomfort lasts longer than it should.
Can You Receive Invisalign After Wearing Braces?
It's entirely possible to get Invisalign after a previous orthodontic treatment. In fact, some patients switch to Invisalign to straighten their teeth after using braces to correct a more severe issue. Of course, we'll need to examine your smile before planning such treatments.