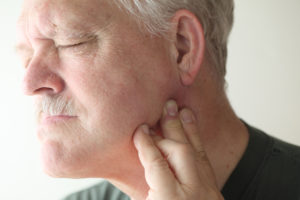 You may have heard someone state that they have TMJ. The truth is that they are correct. You and I also have TMJ. Everyone has TMJ. TMJ is short for temporomandibular joint. This is the jaw joint. At Ponte Vedra Complete Dentistry, we are dedicated to educating the public about oral health and other current issues in dentistry. Today we would like to briefly tackle jaw pain, TMJ, and TMD. We hope you learn something and enjoy!
What is the TMJ?
As stated above, the TMJ is the temporomandibular joint. This is a complex joint that lies on both sides of our face just in front of our ears. This joint is unique in that it rotates and slides. This allows the jaw to complete complex motions for eating and speaking. This joint is made up of essentially a ball joint which rotates in a socket created by a few different bones, several muscles, several ligaments, and a disc. All of these elements have to be positioned correctly and functioning adequately or else we can experience disorder.
What is TMD?
What that person who stated they have TMJ was most likely referring to was TMD. TMD refers to temporomandibular disorder. This is any of the many different problems that can come from dysfunction of the joint, muscles, ligaments, or nerves that make up this joint.
Is Jaw Pain TMD?
Jaw pain is most certainly a symptom of disorder from this joint. In addition, many patients with TMD have chronic headaches, neck and cervical vertebrae pain, pain behind the eyes, and even loss of function. There are many different problems that can be associated with the joint. Many patients are experiencing the inception of these problems and they are completely unaware. For example, millions of Americans grind their teeth at night. Many do not know they do so. This can lead to muscle pain, nerve pain, and changes in the bite. Many other patients experience referred pain, which is essentially a mix-up of signals leading to the brain. Others experience trigger point pain that can be caused by an accident that happened in the past.
How do I Correct TMJ Problems?
TMJ problems are extremely complex. Part of the difficulty in locating and treating these problems is that many different problems can manifest themselves with the same symptoms. A thorough consultation with your dentist is a great starting point to address TMJ problems. Many times the correction is a simple night guard to wear. Often the treatment is more complex due to other additive factors.
We are of course happy to answer any questions that you may have.  If you would like to learn more about this topic, we encourage you to visit the American Academy of Orofacial Pain,  the American Dental Association's information on TMJ, or their information on temporomandibular disorders.