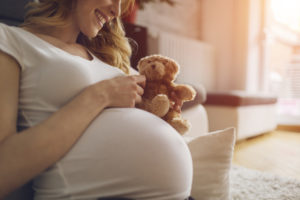 At Ponte Vedra Complete Dentistry, we are dedicated to oral health education for our patients. Our blog serves as a venue for this education. If you would like to learn more about a vast array of topics related to dentistry and oral health, we encourage you to browse our past posts. When brainstorming a topic for today's post, it occurred to us that we have not provided a thorough guide to pregnancy as it relates to oral health. We hope this answers some common questions and allows the reader to recognize the importance of oral hygiene and a relationship with your dentist during pregnancy!
Are Visits During Pregnancy Really Important?
Historically, many health professionals have not provided care to pregnant women. As time has passed, more and more clinicians have become educated to the facts related to providing care to this segment of the population. We now know more than ever about oral health and pregnancy. That said, the quick and simple answer to the question above is YES! In fact, dental visits can be much more important during pregnancy than other periods in life. The reasons for this are many. Mother and child are both influenced by the changes that take place during this time. Below we have outlined a few of the different factors that should be considered.
Gum Disease
Studies have shown that 35-75% of pregnant women have gingivitis. Symptoms of gingivitis during pregnancy include swollen or reddened gums, gums that bleed easily when brushing or flossing, persistent bad breath, and tenderness. Many women have reported a decrease in at-home oral hygiene procedures due to these symptoms.  For many reasons this can be detrimental.
Gingivitis in the pregnant population is so much more common mainly due to the hormonal changes experienced during pregnancy. This leads to changes in the microbial environment in the mouth as well as a change in host factors (immune system, cell signaling, etc.). Although it is more challenging to treat pregnancy-related gingivitis, it is important to know that treatment is effective.
In and of itself, gingivitis should be seen as a danger and corrected when present. Gingivitis during pregnancy contributes to and creates other complications that should be noted.
Preterm Labor
The presence of gum disease leads to an immune response. Like any other infection, the body essentially tries to combat and overcome the problem. This immune response is a complex reaction consisting of many intricate cell signals. Some of these cell signals have been shown to initiate labor in pregnant women.  We will include blog updates as research provides us with more information.
Periodontal Disease and Low Birth Weight
The evidence linking these two conditions is not as clear as the other oral health complications created by gum disease and pregnancy. Currently it is suspected that a release of cell signals created from inflammation in the gums can contribute to placental blood flow restriction. This can result in intra-uterine growth restriction and low birth weight babies.
Preeclampsia
Preeclampsia is a potentially dangerous condition that pregnant women are at risk for developing. Although exact causes are unclear, preeclampsia and periodontal disease have been found to be correlated. Signs of this condition include high levels of protein in the urine and high blood pressure. Preeclampsia places child and mother at risk. Although the mechanisms are not totally clear, experts believe inflammatory mediators are the culprit.
What Should be Done to Prevent these Complications?
Women who are planning on becoming pregnant or have recently become pregnant are urged to schedule a dental visit in addition to their OBGYN or primary care physician as soon as possible. Studies have shown that many of the above problems are difficult or not possible to avoid or prevent after the first trimester. This makes early treatment imperative.