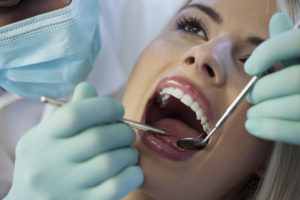 Our blog topic of the week is cosmetic dentistry and we are here to dispel a common myth that many people may believe—all dentistry is cosmetic dentistry. In recent years, the increasing demands for a perfect, "Hollywood" smile have led many Americans to seek out dental treatment that is considered cosmetic in nature. Traditionally, general dentists have had the overarching goal of improving the health or functionality of a patient's dentition. However, with increasing demands for dental work that is designed to improve upon appearances, many dentists have started to treat patients cosmetically.
According to the American Academy of Cosmetic Dentistry, patients seek out cosmetic dental treatment for many reasons and improving physical attractiveness or self-esteem is the most common reason. People may also seek out cosmetic dental treatment after accidents or injuries, to fix a previously failed dental treatment, or to look or feel younger. Although cosmetic dentistry continues to increase in popularity, we want our patients to understand that cosmetics and appearances are not the most important aspect of dentistry—health is! Above everything else, we want all of our patients to be healthy, happy, and free of dental diseases. Only when we have ensured that our patients are free from disease will we proceed with cosmetic dental treatment. After our patients complete their cosmetic dental treatment and are satisfied with the results, we are committed to working with our patients to maintain the treatment and maintain the overall health of the oral cavity.
At Ponte Vedra Complete Dentistry, one of our primary goals is patient education and one way that we do this is with out weekly blog. If you would like to read more about the cosmetic dental services that we provide, please feel free to visit the services section of our website. If you would like to schedule a consultation or have any further questions, do not hesitate to contact us at any time electronically or call (904)285-7711.
What is Cosmetic Dentistry?
Although most dentistry is designed to ultimately produce cosmetic results, true cosmetic dentistry is elective treatment that is done purely to enhance a person's smile. Cosmetic dentistry is not usually covered by insurance providers and is usually paid for by the patient out-of-pocket. Cosmetic dentistry is distinguished from general dentistry in that general dentistry is designed to control or eliminate disease and restore function and form of the teeth. There are many ways that a dentist can control the appearance of the smile. These include adding materials to the teeth, recontouring the teeth, reshaping the gums, changing the color of the teeth or gums, and moving the teeth around.
What are Some Common Cosmetic Dental Procedures?
One of the most commonly requested cosmetic dental procedure is whitening or teeth bleaching. There are many options available for whitening the teeth, but treatment completed in the dental office is usually the safest and the most effective. If whitening is ineffective, porcelain veneers may be placed on the teeth to mask the unsightly shade and make them appear whiter and brighter. Teeth are commonly reshaped, either by adding material or taking away tooth structure. Addition of material can be completed with veneers, crowns and bridges, or direct composite bonding. Material may be taken away from bulky or bulbous teeth with a procedure called enameloplasty. When teeth are missing, dental bridges, implants, or partial dentures can be used to replace the missing teeth. Sometimes, teeth may appear misshapen because the gums surrounding them are enlarged or irritated. When this occurs, a procedure called a gingivectomy can be completed to recontour the gums. Often times, orthodontic treatment is medically necessary to correct a malocclusion, or bad bite. Other times, braces or Invisalign are used electively and cosmetically to make the teeth straighter.
How Does the Concept of Treatment Phasing Relate to Cosmetic Dentistry?
At Ponte Vedra Complete Dentistry, we are committed to providing comprehensive care to all of our patients. We treat our patients beginning with what is medically necessary and do not complete cosmetic dental procedures until we are certain that our patients have the ability to maintain their dental health. Our treatment phasing usually begins with addressing any dental emergencies that may exist—these are often times related to pain and/or infection. After emergent treatment, if necessary, is provided, patients are usually scheduled for an appointment to review their entire treatment plan with the dentist and ask any questions that they may have. Once all diseases, including cavities and gum disease, have been controlled, we will work with you to decide which cosmetic dental treatment, if any, would be appropriate. We strive to strike a balance that includes healthiness and happiness with all of our patients.
We hope that you learned a little bit about the importance of disease control before pursuing elective, cosmetic dental treatment. We know that you may be anxious to have your smile fixed immediately, but sometimes it is necessary to control cavities or gum disease first to ensure that the cosmetic results will be stable over time. If you are interested in having any type of dental treatment done, please feel free to contact us at any time electronically to schedule a consultation or call (904)285-7711.