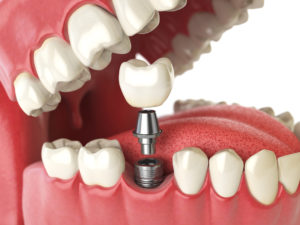 Our blog of the week will focus on dental implants and the common myths and misconceptions associated with them. Most patients have multiple questions when it comes to dental implants, and we are here today to focus on some of the most important questions and concerns that patients present with. The Institute for Dental Implant Awareness has published multiple patient guides related to dental implants, surgical, and restorative procedures. Most of the articles contain some confusing dental jargon that may be difficult for patients to understand. Today, we would like to address some of the most common misconceptions related to dental implants so that you can make an informed and educated decision when you decide to have dental implant treatment completed for you or for any of your family members.

In the past twenty years, dental implant technology has vastly improved and many patients are electing to have dental implants placed instead of crown, bridge, or denture treatment. This is an excellent improvement for the dental industry as a whole, but it does come with some drawbacks. Because of the popularity of dental implants, many dentists have started aggressively advertising their dental implant services and discount implant super centers have arisen which promise the best service at the cheapest price. As is true with most things in life, it is usually impossible to have both the highest quality and the lowest price. We are here to remind you to use caution when choosing a dentist who will place your implants because it is a complex procedure. We know that it is sometimes difficult for patients to decide which information is accurate when presented with multiple options. This article is designed to help you notice the difference between quality information and advertising scams that may be out there.
At Ponte Vedra Complete Dentistry we are committed to educating our patients on all things dentistry. One way that we educate our patients is with these weekly blogs. We hope that this week's article will help you make an informed decision if you are considering dental implants. For additional information or to schedule a consultation, please contact us at any time electronically or call (904)285-7711
1. All Dentists Are Qualified To Place Implants
It is, technically, true that any dentist may place an implant if they choose to do so. However, most American dental schools do not provide sufficient training to perform the surgical and restorative procedures necessary to provide quality dental implant treatment. It is up to you to ask your dentist about the specific training that he or she has received related to dental implants. Dr. Harth and Dr. Townsend have completed hundreds of hours of post-graduate training in the placement and restoration of implants and have had hundreds of satisfied patients over the years
2. Dental Implant Surgery Is Painful
The surgery for placement of dental implants does have some post-operative pain involved, but most patients state that the pain is no worse than a simple dental extraction. During the placement procedure, your dentist will use local anesthesia to make the procedure more comfortable. Your dentist will also recommend or prescribe pain medications that can help with discomfort while the implant site is healing.
3. Bargain Implants Are Just As Good
There are hundreds of different types of implants made by a variety of manufacturers, and few of them are produced and warrantied at a high enough quality to be surgically inserted into the jaw. You may be tempted to choose the lowest price dental implant, but this is not always the best option. At Ponte Vedra Complete Dentistry, we only work with specific implant manufacturers that produce the highest quality ratings to ensure that your implant surgery will be a success.
4. A Dental Implant Is A Single Unit
Many patients believe that a dental implant is a single unit, which is inserted into your jawbone and looks like a tooth. The truth is that dental implants actually consist of three separate but integrated units, which are displayed at the image at the top of this page. The dental implant is the screw that resembles and acts as the root of the tooth and is placed surgically into your jawbone. An abutment is attached to that screw. Finally, a crown is placed over the abutment, which looks like the crown of your tooth. When you are having dental implant surgery, keep in mind that you will be paying for the implant, the abutment, and the crown and that the best results will be achieved with the highest quality of all three parts.
5. Implants Will Noticeably Stand Out In Your Smile
At Ponte Vedra Complete Dentistry, we have completed many dental implant surgeries and restorations and are confident that you will like the outcome of your treatment. Implants that are placed and restored properly should be indistinguishable from natural teeth.
We hope that you will use this information to make the best and most informed decision for yourself if and when you decide to have dental implants placed. Dental implants are a large investment, but they are worth the investment if you ensure that you are getting the best treatment. If you have any lingering questions or would like to schedule a consultation appointment, please contact us at any time electronically or call (904)285-7711. We are always accepting new patients from in and around the Ponte Vedra Beach Community.