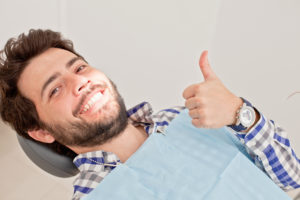 Maintaining good oral hygiene is a constant fight against plaque and tartar — stopping the latter depends on the regular removal of the former. And, in the war against these oral health hazards, a toothbrush and dental floss are your most valuable tools. Continue reading to learn about the differences between plaque and tartar and how you can prevent both from your dentist in Ponte Vedra Beach.
Plaque vs. Tartar
Despite what you may have thought, plaque and tartar are not the same things. Rather, plaque is the clear, sticky substance that builds up on the surface of your teeth throughout the day. It is what you can easily remove with your fingernail. When plaque is not cleaned off regularly through excellent dental hygiene, it will turn into hard, yellow tartar — a process which can happen in as little as 24 hours. Once tartar has formed, it can only be removed with special tools at the dentist's office. Preventing tartar, therefore, requires regular hygiene practices to stop plaque from building up on the surface of the teeth.
Fighting Plaque
So how can you fight plaque? It's all about brushing, flossing, and maintaining a generally healthy diet and lifestyle. You should brush your teeth for two minutes, at least twice a day (after each meal is even better). Floss between teeth daily, and use an alcohol-free mouthwash to help remineralize teeth and strengthen the tooth enamel.
In addition to practicing good oral hygiene practices at home, try to reduce your sugar intake and avoid habits like smoking or tobacco use and excessive alcohol consumption. Keeping all of these tips in mind will be good for your oral AND overall health!
Prevention Is Key
Doing your part to keep your mouth clean of plaque and tartar buildup is important because, as with all things, it is usually far easier to prevent an oral health issue than it is to fix one after the fact. With excellent oral hygiene habits and routine visits to your dentist, you are taking the necessary steps to save yourself time, money, and discomfort in the long run by reducing the risk that you will need complex restorative care later on.
And there is good news — no matter how long it has been since your last checkup and cleaning or how far off the "good oral health practices" wagon you have fallen, it is never too late to recommit to your oral health. Scheduling a checkup and cleaning with your dentist is a great idea any time of year! Don't wait another day to enjoy cleaner, healthier teeth and gums.
Meet the Dentist
Dr. Eric L. Townsend and Dr. Kristopher R. Harth offer comprehensive dental care for patients of all ages from the comfort of the Ponte Vedra Complete Dentistry office. To learn more about the importance of preventing plaque and tartar buildup or to schedule an appointment with this excellent team of dental professionals, you are invited to contact them by phone at 904-285-7711.