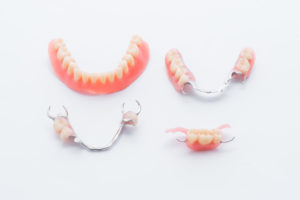 Most people take it for granted that they can eat, speak and smile with ease. But if you've lost multiple teeth, chances are good that you quickly realized how much it affects your daily life! Tooth loss greatly impacts your overall oral health and can have multiple unforeseen consequences. Fortunately, partial dentures in Ponte Vedra Beach are a great way to minimize those consequences and enjoy the benefits of a full complement of teeth. If you've been considering partials, you may be wondering if they're comfortable, how to maintain them, and whether they're a good choice for you. In this blog, you'll learn the answers to these common questions so you can make the right decision for your oral health!
Are Partial Dentures Comfortable?
Partial dentures are replacement teeth that are attached to a smooth plastic base that's been matched to your gum color. They'll have either a clasp or other type of attachment that "anchors" them into place by grasping onto your existing teeth.
At first, it's normal for a partial denture to feel foreign, bulky or awkward in your mouth. However, most patients report that their partials feel much more natural (and quite comfortable) within 2-3 weeks.
How Can You Make Partials More Comfortable?
In the initial weeks after getting your partial, avoid hard or tough foods and focus on soft foods instead. Also, try to chew on both sides of your mouth to distribute chewing forces more evenly.
In many cases, a dentist will recommend that you remove your partial denture at night to give your tissues a break. However, always follow the specific instructions your dentist gives you, as some patients benefit from wearing their partials all the time.
Finally, never hesitate to contact your dentist if you have gum tenderness that lingers. They'll be able to make adjustments to alleviate any pressure that hits certain areas of your gums and causes sore spots.
Is a Partial Denture Right For You?
Partial dentures are a great way to replace multiple missing teeth and restore the look, feel and function of your smile. Having said that, every patient has unique needs and goals, so the best way to determine if a partial denture is right for you is to schedule a consultation with a dentist in Ponte Vedra Beach.
Tooth loss can have a big impact on overall quality of life, but it doesn't have to. With a partial denture, you can look forward to a restored smile that looks (and feels) great!
About the Author
As a native of northeast Florida, Dr. Khristopher Harth loves serving his community by providing outstanding dental care. In addition to providing high-quality, great fitting partial dentures, he always educates his patients on how to get the most from their experience. If you've lost teeth and have further questions about partial dentures, he can be contacted via his website or at (904) 285-7711.