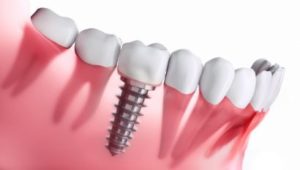 Getting dental implants in Ponte Vedra Beach is a game-changer for many people. They restore your smile and self-confidence like no other option can – not to mention that they can last decades, or even a lifetime, with the right care and maintenance. But what kind of maintenance do they require? It's true that implants can't get cavities since they're made of titanium, but this gives many people the wrong idea that their implants are maintenance-free. Not taking care of an implant increases the chance that it will fail, which is a shame since they're such a wonderful investment in your oral health. In this blog, we'll tell you exactly how to care for your implants so you can enjoy all the benefits they offer for as long as possible!
How Should You Care For Your Dental Implants?
As mentioned earlier, your implant is made of surgical-grade titanium and will never develop a cavity. However, the gum tissue and underlying bone that support your implant can develop problems.
In fact, you can still get a form of gum disease around your implant the same way you can around natural teeth. Since gum disease is the leading cause of tooth loss, it stands to reason that it can also cause your implant to fail.
Here are some great ways to care for your gums and make sure your implant stays strong and healthy:
Get regular checkups – It's important to get consistent dental care for multiple reasons. First, you'll have the area around your implant professionally cleaned with special instruments. Second, the gum tissue and bone levels around your implant will be closely monitored so that any potential problems can be caught as early as possible and treated right away.
Maintain good hygiene – It's important to brush the area around your implant lightly but thoroughly at least twice a day, just as it is with your natural teeth. It's also crucial to floss under the gumline around the implant, which requires a slightly different technique than natural teeth do. Be sure to ask your hygienist or dentist in Ponte Vedra Beach for a demonstration! They might also recommend other tools to help you get the job done, such as an oral irrigator.
Remember, every effort you make to care for your implants will be well worth it. A little time and attention each day will help you get the most out of your implants for many years.
What Are the Benefits of Dental Implants?
Dental implants look, feel and function more like your natural teeth than any other option. Here are just some of the advantages they offer over bridges and dentures:
Dramatically improved chewing power
Longevity
The size and shape of your jawbone and facial structure is maintained
Self-confidence
Appearance
Dental implants are a fantastic investment that will enhance your oral health for many years. With these tips and tricks, you can make sure you protect that investment for as long as possible!
About the Author
Dr. Eric Townsend is a general and implant dentist in Ponte Vedra Beach who is a firm believer in the power of preventive care. He knows how important maintenance is to the long-term health of dental implants, so he always makes sure to educate his patients about the best way to care for them. If you have any additional questions about your implants, he can be reached via his website or at (904) 285-7711.