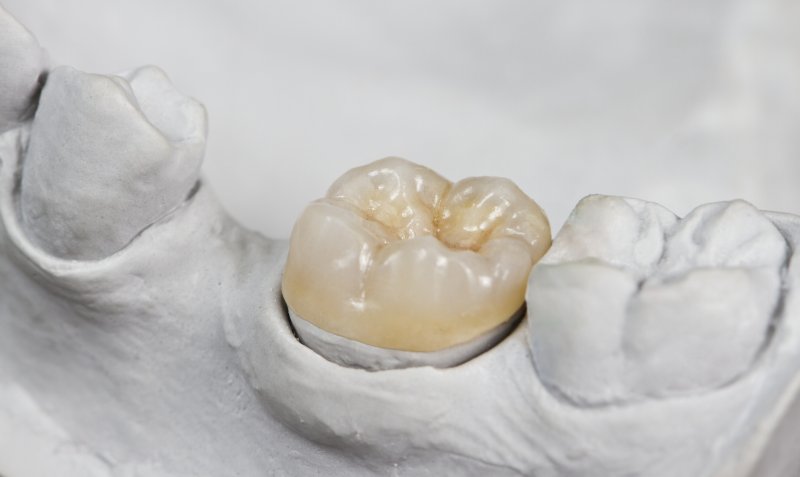 One moment you're taking a bite out of a bagel or cracker,the next your spitting out your food and holding your mouth in pain. Cracked crowns can really throw a wrench in your day, making it almost impossible to enjoy any foods or beverages until it's fixed. However, even if you don't experience much discomfort after a crown breaks, you're still going to want to get treatment from a dentist. After all, a broken dental crown in Ponte Vedra Beach is not always difficult to fix.
How a Crown Can Break
Crowns are typically made from either metal material or porcelain, depending on the needs of the patient. While crowns are designed to last for over a decade when properly cared for, they are not indestructible dental devices. In fact, they are only slightly stronger then natural tooth enamel, which is the strongest material in the human body. But there are many bad habits that can wear them down more quickly or cause them to crack outright.
For example, if you bite on your nails, chew ice cubes,frequently eat chewy or hard foods, or use your teeth as a tool to open packages or bottles, your crown is far more likely to wear down and even crack.This is why diet plays such a large role in oral health as well as hygiene.
What Happens After the Break
When crowns crack, it potentially compromises the integrity of the entire crown. Even if the crown cracks a small amount or chips slightly,it only increases the risk of the crown breaking down further. If the crack is more significant, it can expose the damaged tooth underneath to oral bacteria.If bacteria reaches this area, it can easily lead to the tooth becoming infected.
In the long-term, the crown that was previously protecting your teeth is now not only affecting your ability to eat foods, but your ability to bite properly. Restorations are designed to fit evenly with your bite. However, if they are damaged, it can compromise the force associated with your bite. This can result in increased stress on your neighboring teeth and jaw joints.
How a Dentist Can Repair Your Crown
When your crown cracks, start by contacting the dental office and scheduling an appointment, ideally for the same day. When you arrive, the dentist will likely take X-rays, examine your tooth, then provide a recommendation for the best next steps. If the damage is minor, they may use a dental bonding resin to replace the damaged portions. If it's more moderate,they can reshape the crown itself so that it looks more even and fits with your bite better. If the crown is severely damaged or cracked completely through,you'll probably need to have the entire restoration replaced.
You won't know for sure what can be done until you contact a dentist and ask them about repairing your dental crown in Ponte Vedra Beach. If your crown is damaged, don't hesitate to contact him today!
About the Author
Dr. Eric L.Townsend earned his DDS degree from the Medical College of Virginia School of Dentistry. He stays active in many continuing education organizations in order to stay ahead of the latest dental technologies and techniques, including those surrounding dental crowns. To get your damaged crown repaired, you can contact him through his website.