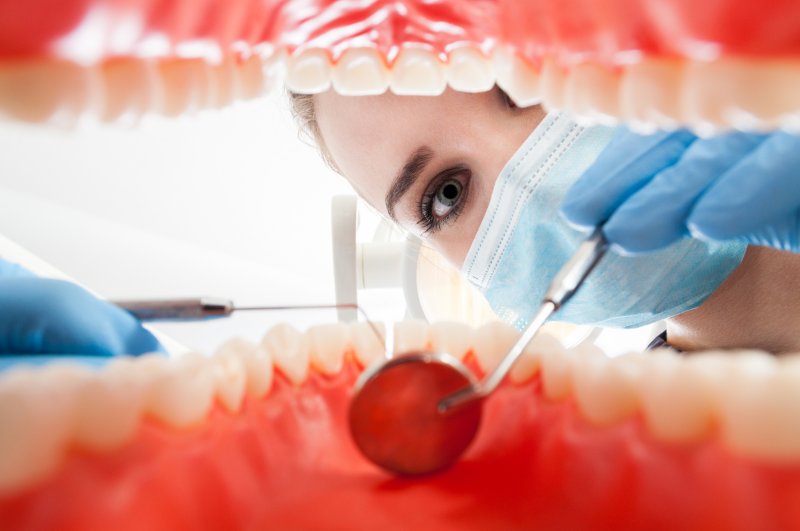 Did you know that oral cancer affects 53,000 people every year? According to the Oral Cancer Foundation, that's the number of Americans who are diagnosed with the condition. Annually, about 10,000 people will die as a result of the condition. With this in mind, it's more important than ever to get screened, even if you have no risk factors. Since April is Oral Cancer Awareness Month, now is the perfect time to get scheduled to see a dentist. To learn the signs and symptoms of oral cancer and other useful information, keep reading!
How Common is Oral Cancer?
According to the American Cancer Society, oral cancer is considered to be the sixth most common form of cancer in the world. It should be noted that the number one reason why people die from oral cancer is because of how often it's caught in the late stages.
Only 29 percent of oral cancer cases are caught early, which is when it is most treatable and in many cases even curable. However, many people do not attend routine dental appointments and therefore don't catch the condition until it's too late. When caught in the late stages, the 5-year survivability rate is as low as 34 percent. In contrast, when oral cancer is caught early, the 5-year survivability rate is as high as 84 percent. It's just another reason why it's important to commit to routine checkups.
How Often Do Dentists Check for Oral Cancer?
Most dentists will perform an oral cancer screening at least once a year. If you are at higher risk of developing oral cancer, then you may need your screening performed multiple times a year. For example, those who are over 45 years of age or male carry an increased risk overall, but you should always take the dentist's recommendation. If you've been attending routine checkups for years, you may not have noticed the oral cancer screening was even happening.
What Do Dentists Look For?
Dentists perform both a visual and physical examination for the signs of oral cancer. The most common include:
Red or white patches of tissue
Oral sores that do not heal after a two-week period
Lumps, bumps or thickening tissue around your mouth or neck
The dentist will also ask you if you have difficult swallowing, chewing, moving your jaw or pain in your ear or jaw. If these symptoms appear, they'll refer you to another medical professional to have a biopsy performed. This test will confirm whether oral cancer is present or not. If so, we'll put you on the right path towards treatment.
Get Yourself Screened Today!
There's no better way to keep yourself protected than by visiting a dentist for oral cancer screenings every six months. Doing it could easily save your life or the life of a loved one. Schedule an appointment to stay protected!
About the Author
Dr. Kristopher R. Harth earned his dental degree from the University of Florida. As a dental professional focused on prevention, he understands how crucial oral cancer screenings are to long-term health. If you haven't been to the dentist in a long period of time, feel free to give his office a call via his website.