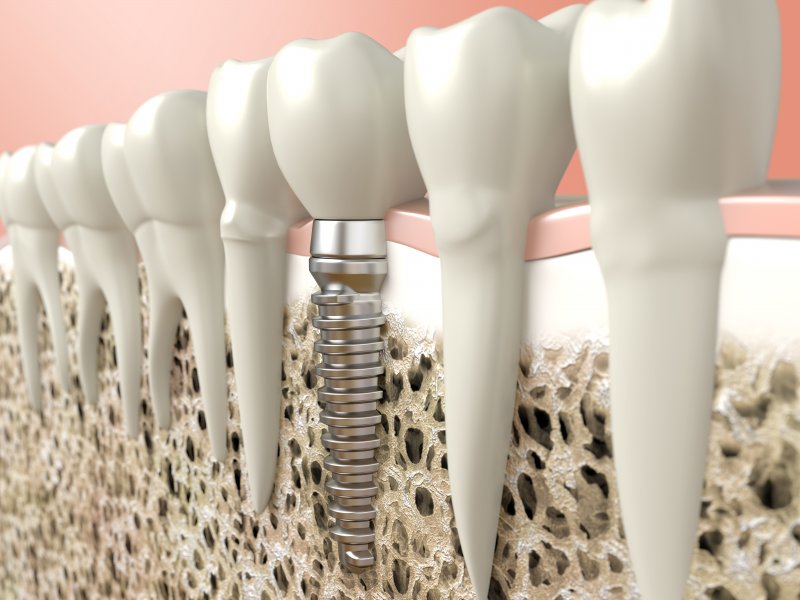 It is extremely rare that you should experience a loose dental implant. However, as with any type of surgery, procedure, or situation, there is always a chance for problems to develop. The good news is that this situation doesn't have to be all doom and gloom. In fact, there are things you can do to make sure the implant doesn't completely come out, and with a trusted dental professional, you can have the confidence of knowing your dental needs will be met using appropriate methods of treatment. So, while the likeliness your dental implant will become less stable is slim, let us explain what you should do if your prosthetic becomes loose.
Why Might a Dental Implant Become Loose?
When we say "loose," this means the dental implant has been affected in a way that it is no longer attached to the bone. Dental implants are meant to be permanently stable in your mouth. Acting just like a normal tooth, it is surgically placed into the jawbone, which means, it shouldn't be going anywhere, just like your regular tooth. However, there are circumstances that can cause a dental implant to loosen, including:
Infection – Poor oral hygiene can result in problems for your natural teeth, even after having dental implants placed. If you develop gum disease, especially in the area closest to your implant, it can negatively impact your prosthetic, causing it to become loose. Gum disease, if left untreated, can progress into what is known as periodontitis, which is the result of plaque and tartar buildup beneath the gum line. As the infection grows, it can cause inflammation in your gums and weaken the jawbone. As the bone deteriorates, your teeth become loose and can eventually fall out.
Improper Placement – If your dentist doesn't carefully place the implant in the correct position, this can create uneven pressure along your bite. It is imperative that you see a highly skilled and trained dentist who knows how to place and restore dental implants.
Poorly Made Prosthetics – If you have a crown, bridge, or denture that is poorly made or placed, and it lives close to your dental implant, it can actually cause problems for your bite and natural teeth. Any shifting can create unnecessary pressure on the implant and cause it to become loose.
Osseointegration Cannot Occur – When you are at home for several months after having your implants placed, osseointegration must successfully occur before moving forward with the tooth replacement process. This is when the implant must fuse to the bone. If you have a compromised immune system as a result of diabetes, an autoimmune disorder, or you smoke, osseointegration will be unable to occur, resulting in a failed implant placement.
What Should You Do if It Becomes Loose?
If your dental implant becomes loose, the first thing you should do is remain calm. It's easy to panic and become frantic in determining how you should handle the situation, but the best course of action is to first, just stay calm.
Next, call your dentist. It is imperative that they are aware of the situation so they can schedule you to come in and have it checked out. There is a high possibility that it can be saved, but you must make sure you notify them immediately. If osseointegration fails to occur, you can be facing a failed dental implant placement. This will require your dentist to remove it and determine if you are a viable candidate for a bone graft. This procedure offers additional support for your jawbone so that a new implant can be placed at a later time.
While dental implant placement might sound scary because of the possibility of a problem occurring, rest assured, your dentist is going to do everything he can to make sure your implant process is a success. Should loosening occur over time, don't wait to make an appointment. Contact your dentist immediately and you'll have your smile back in no time.
About the Author
Dr. Eric Townsend, DDS, earned his bachelor's degree in Chemistry from the University of Florida and his doctorate from the Medical College of Virginia School of Dentistry. As a qualified and trained dentist who has the knowledge and expertise to place and restore dental implants, Dr. Townsend and his fellow colleague, Dr. Kristopher Harth have helped patients achieve healthier, more beautiful smiles using dental implants. To learn how we can help you, contact us at (904) 285-7711.