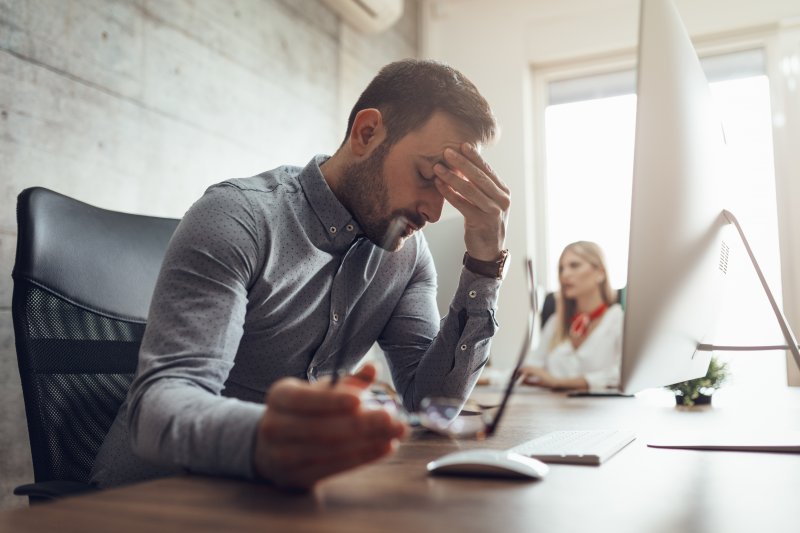 Keeping a job, raising a family, staying in good health – adults have a lot on their minds. It's not surprising that, according to Stress.org, about a fifth of Americans suffer from extreme stress. It goes without saying that all that anxiety and tension can strain your mental and emotional health, but you might be surprised to learn that your smile could be in danger as well. Here are 5 ways stress impacts teeth; learn them well so that you can address them early on and give yourself one less thing to worry about!
1. Nail Biting
Many people fall into the habit of chewing on their fingernails in stressful situations. This can create bigger problems than you might think; your nails have all sorts of germs on them, and putting them in your mouth can cause an infection. Worse yet, any viruses or bacteria on your hand could enter the body and cause all kinds of damage.
2. Burning Mouth Syndrome
Patients who are under a lot of stress – especially women – might suddenly feel a burning sensation on their tongue, lips, gums, palate, throat or the whole mouth. It might cause a metallic taste or even a loss of taste. These symptoms might come and go, or they might last the whole day. Your dentist and doctor might need to work together to help you treat this problem.
3. Teeth Grinding
It's estimated that at least 8% of adults grind and clench their teeth at night, and this is especially true for those going through a lot of anxiety. Over time, your teeth could become worn down and weakened over time; eventually they might even break. You might also experience chronic jaw pain and severe headaches.
4. Canker Sores
It's not exactly known why canker sores develop, but stress seems to be a factor in many cases. You can develop these red or white sores anywhere in your mouth. They usually go away on their own, but in severe cases you might need to get a prescription medicine or a mouthwash to relieve the pain.
5. Gum Disease
The longer your body deals with stress, the harder it is for it to fight off infections, and that includes your gums. Periodontal disease (also known as gum disease) begins as gingivitis; you'll notice swelling, redness, bad breath and bleeding. Eventually, gingivitis turns into periodontitis and starts destroying bone tissue. Tooth loss is frequently the ultimate consequence of periodontitis; studies have also shown that the condition might increase your risk of heart attacks and other life-threatening conditions.
Remember, your dentist in Ponte Vedra can help treat the above oral health issues, but they may not be able to address the underlying cause. Call your doctor and figure out what steps you can take to protect your mind and body.
About the Practice
At Ponte Vedra Complete Dentistry, Drs. Kristopher R. Harth and Eric L. Townshend have a shared goal of giving their patients comfortable comprehensive care. They offer a wide range of services, such as periodontal therapy to treat gum disease and TMJ therapy for patients suffering from chronic jaw pain. To schedule an appointment, visit their website or call (904) 285-7711.