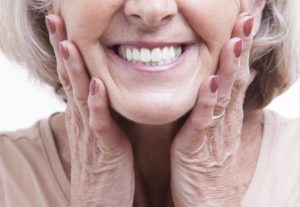 Maybe you didn't brush and floss as much as you should have, and you had to have a tooth extracted to save the rest of your mouth from infection. Maybe your tooth got dislodged in a fall or accident of some kind. No matter how your tooth came to be missing, it's important to get it replaced as soon as possible. Going too long can negatively affect your oral health. Here are 4 ways that tooth loss can change the shape of your face.
1. Jaw Alignment
Even if the tooth you're missing is in the back of your mouth, it can still become obvious that it's no longer there. Missing one or more teeth alters the shape of your face. The longer you wait to replace your missing teeth with dental implants, the more your remaining teeth will shift to try and fill in the gap themselves. This may make your jaws not quite line up like they used to, which is very noticeable.
2. Sagging Face
One of the main jobs of your front teeth is to hold up and support the muscles at the front of your mouth. When your front teeth aren't there to perform this task, your facial tissue becomes unsupported and may start to sag. This makes you appear much older than you really are. Dental implants keep you looking youthful.
3. Bone Loss
When you're missing the root of a tooth, your jawbone no longer receives stimulation in that area through biting and chewing. Your jawbone begins to deteriorate as a result of not being used. This makes the bone start to shrink, which is majorly uncomfortable, and that discomfort will show in your facial expressions.
4. Shifting Gums
Your gums naturally wrap themselves around your teeth. However, when a tooth is no longer there, your gums basically have nowhere to go. They will start to shrink and eventually disappear. Your jaw will no longer have all the support it once had. This can lead to other complications like:
Wrinkles around your mouth
Thinner lips
Chin can stick our farther
If you're missing one of more teeth, it's crucial to get them replaced as soon as possible. Ask your dentist if dental implants are right for you.
About the Author
Dr. Kristopher Harth attended dental school at the University of Florida. He has earned a Mastership with both the Academy of Genera Dentistry and the International Congress of Oral Implantologists. Both of these awards are achieved by less than 2 percent of all dentists in the country. It also means you can trust Dr. Harth to flawlessly replace your missing teeth with dental implants. To learn more about replacing missing teeth, contact Dr. Harth by clicking here or calling (904) 285-7711.