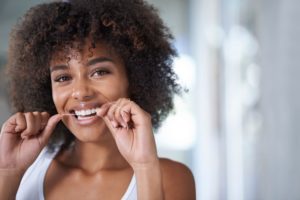 September is a lot of things, like National Blueberry Popsicle Month, National Papaya Month, and National Square Dance Month. But on a more serious note, it's also National Gum Care Month. Taking care of your gums is crucial not just for your oral health, but for your overall health as well. Let's talk more about how to celebrate National Gum Care Month in style by preventing gum disease.
What Is Gum Disease?
When you neglect to brush and floss twice a day, a sticky film called plaque can build up on your teeth. Plaque is comprised of bacteria as well as particles from the foods and drinks you consume. When bacteria in plaque builds up, it causes gum disease and attacks the structures keeping your teeth anchored to your gums. When that happens, your teeth may fall out!
Catching gum disease early on is critical in treating it. Let your dentist know if you notice any of the following symptoms:
Swollen, red, or purple gums
Tenderness or sensitivity in your gums or teeth
Bleeding whenever you floss or brush
Pus oozing from your gums
Bumps or sores on your gums
Receding gumline making your teeth appear "longer"
What Happens If You Don't Get Gum Disease Treated?
The bacteria associated with gum disease can create pockets in between your gums and your teeth. Through these holes, the bacteria may enter your bloodstream and cause problems in other parts of your body. For this reason, untreated gum disease may result in an increased risk of the following:
Type II diabetes
Heart disease
Stroke
Alzheimer's disease
Birth complications in pregnant women
Digestive issues
What's the Best Way to Take Care of Your Gums?
The best way to celebrate National Gum Care Month is to floss at least once every day. Flossing is the only way to get rid of plaque in between your teeth, and it's just as important as brushing is in keeping your mouth clean and healthy. Stick to these other tips to help prevent gum disease:
Quit smoking
Keep consumption of sugary foods and drinks to a minimum
Rinse with antibacterial mouthwash
Visit your dentist twice a year for your regular checkup and cleaning
September might be the month where we recognize how important it is to take care of your gums, but it's still a good habit to build year-round. Talk to your dentist for more advice on how to celebrate this month in style.
About the Author
Dr. Eric Townsend has more than 30 years of experience practicing dentistry. He earned his doctorate from the Medical College of Virginia's School of Dentistry. He has numerous professional affiliations, including the American Dental Association, the Florida Dental Association, and the Dawson Academy Alumni Association. He currently practices at Ponte Vedra Complete Dentistry in Ponte Vedra Beach, FL. For more tips on how to take care of your gums, visit Dr. Townsend's website or call (904) 285-7711.