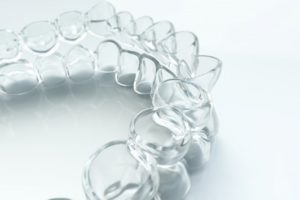 Invisalign has taken the world of modern dentistry by storm! These awesome aligners have helped millions of patients achieve straighter smiles in a discreet and convenient manner. That said, it isn't always easy; not only must you wear your aligners for 22 hours every day, but you have to keep track of them when they aren't in your mouth! But unfortunately, your aligners can sometimes become lost or broken beyond repair. Here are four tips for when this happens so you can quickly get your treatment back on track.
1. Stay Calm
This is good advice for any sort of dental situation, but especially when you lose an aligner. It's tough to think clearly and act calmly if you're stressed out, so take a deep breath before retracing your steps and searching for your aligner. Since your aligner is small and transparent, it might be difficult to detect, or it could've fallen into an unusual spot, so be thorough and careful while you look. If you're able to find it and it isn't damaged, be sure to clean it before putting it back in your mouth!
2. Contact Your Dentist
This is the best way to ensure that your treatment isn't delayed any longer than necessary. Since you must wear your aligners virtually all-day-long (aside from when you're eating), the clock starts ticking once an aligner becomes lost or damaged. Informing your dentist quickly will allow them to begin replacing your aligner before your teeth have the chance to begin shifting back into their original, incorrect positions. It's also worth noting that most Invisalign treatment plans include one or two replacement trays!
3. Don't Advance Early
You might feel tempted to replace your lost aligners with one of the aligners from your next set of trays, but this is not a good idea! Your treatment process heavily depends on your willingness to wear your trays and advance to your next set when it's the appropriate time. Skipping ahead without letting your teeth shift at the correct pace can prolong and derail your progress. Always consult with your dentist about when it's time to advance.
4. Be Proactive
You should always be mindful of where you set your trays down if you take them out; being proactive can save you a lot of trouble throughout your treatment process! Ideally, you should always store them in their carrying case if you aren't cleaning or wearing them. Of course, being diligent about wearing them for 22 hours daily will also drastically lower your chances of losing one.
Your Invisalign aligners are a major investment, so protecting them as best you can and keeping track of them is in your best interest. That said, if you do unfortunately lose one of your aligners, keeping a level head and following these tips will ensure that you can have it replaced quickly without interrupting your treatment.
About the Practice
The team at Ponte Vedra Complete Dentistry is honored to serve patients and families in the Ponte Vedra Beach area. The practice is led by Dr. Kristopher R. Harth and Dr. Eric L. Townsend. They're proud to offer a wide range of services including cosmetic options like Invisalign. If you have any questions about Invisalign or would like to arrange an appointment, feel free to visit the practice's website or give them a call at: (904) 285-7711.