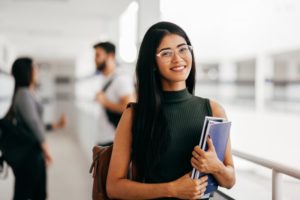 Many adults steer clear of straightening misaligned and crowded teeth because they don't want to have to wear metal braces for years. Although this used to be the only orthodontic treatment available to fix those issues, thanks to modern dental advancements, that's no longer the case. Invisalign aligners are discreet and easily removable, and the treatment can easily be incorporated into the life of a busy adult who want to maintain a professional appearance while straightening their teeth. Read on to learn four freedoms you can enjoy with Invisalign that makes it a popular orthodontic treatment.
Freedom to Eat What You Want
With metal braces, you have to restrict your diet by avoiding any foods that are sticky, excessively chewy or hard because they could break a bracket or wire and set back your treatment. This can mean giving up chewing gum, certain candy, or other treats that you love to enjoy. With Invisalign aligners, you don't have to change your diet at all because they're removable. Simply take your trays out before you eat, brush your teeth after your snack or meal, and place your aligners back in your mouth. As long as you wear your trays between 20 and 22 hours a day, you'll remain on track with your treatment timeline!
Freedom to Socialize Confidently
One of the biggest drawbacks of metal braces is that everyone who you speak to is going to know you're undergoing orthodontic treatment. Not only can this make you self-conscious about interacting, but it could also affect your work life by making you appear "less professional" to others. Invisalign trays are very discreet and clear, so most people won't be able to tell you're undergoing orthodontic treatment unless they do a close inspection of your mouth.
Freedom from Discomfort & Inconvenience
If you've ever known anyone who had metal braces, you probably heard them talk about how sore their mouth was after they had to go in and get them tightened. With Invisalign trays, you won't have to worry about these uncomfortable appointments. Every set of aligners will get you closer to your final goal, and while you may experience some slight discomfort as you graduate through them, it doesn't last very long.
Freedom to Take Care of Your Smile on Your Own Terms
Invisalign aligners ultimately give you the ability to straighten your teeth without having to drastically change your day-to-day life, like some folks who get metal braces may need to. Because the trays are removable, you can easily brush and floss your teeth, eat what you want, and maintain your confidence, all while working towards a healthier and happier smile, making this the most priceless freedom that you'll receive when you choose Invisalign!
About the Author
Dr. Eric Townsend has been providing his long-term patients with outstanding dental care since 1985. Over the years, he has never stopped staying up to date with the latest advancements in his field and has completed hundreds of hours of continuing education courses. He's also a proud and active member of several professional organizations, like the American Dental Association. His ability to provide modern treatments like Invisalign sets Ponte Verda Complete Dentistry apart from other practices in the area. For questions or to schedule a consultation for Invisalign, visit his website or call 904-285-7711.