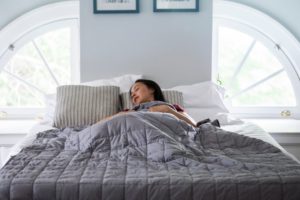 In 2017, weighted blankets secured a spot in mainstream advertising and media as a simple and effective solution to help people with conditions like ADHD, anxiety, and sensory processing disorders. Today, they're readily available for purchase at most stores and are relatively affordable, too! They offer an array of benefits, but if you have sleep apnea, did you know that weighted blankets may also be able to help you? Read on to learn about how weighted blankets can improve your quality of rest alongside helping with anxiety and other conditions.
How Do Weighted Blankets Work?
Many people have described the feeling of being under a weighted blanket as a gentle hug because they apply a light, even amount of pressure across the body. Whether you're in bed or relaxing on the couch, the deep, full body feeling of relaxation that they provide can truly help your mind and body rest, and if you have sleep apnea, it can help you have fewer restless nights. The blankets come in different weights, ranging from four to 30 pounds. The weight that you get will be determined by your body weight, but one of the most popular is 12 pounds.
How Can Weighted Blankets Help You Sleep Better?
Weighted blankets provide pressure that can changed hormones within the body as well as cause different types of beneficial stimulation that trigger the body and mind to feel calmer.
Can stimulate oxytocin. Oxytocin is a hormone that stimulates the feelings of closeness and attachment, like when you receive a hug from one of your best friends that you've missed! It plays a role in social bonding and parent-child attachment formation and can influence your emotional attachment to memories. In addition to all of this, it's involved in regulating the sleep cycle. A study conducted in 2017 even found that oxytocin can help reduce obstructive sleep apnea symptoms, like frequent waking throughout the night.
Can decrease cortisol. Cortisol is an important hormone that helps trigger your body's stress response. When cortisol is high, it may cause you to wake frequently throughout the night or even make it difficult to fall asleep. Pressure stimulation has been shown to help cortisol naturally drop, allowing you to relax and reducing any overstimulation you may be experiencing.
Can increase serotonin. Serotonin is another helpful hormone that most people are familiar with. It helps regulate your mood and energy levels, and when it drops, it can lead to heightened depression and anxiety. Not only can a drop in serotonin affect your day-to-day life, but it can also impact your quality of rest.
By no means are weighted blankets an alternative to sleep apnea therapy, but they may be a helpful tool in allowing you to get the quality of rest you deserve. The best part is that they're cost-effective and available at most department stores nowadays!
About the Author
Dr. Kristopher Harth has a cutting-edge approach to providing dental care. He has completed thousands of hours of continuing education courses, qualifying him to provide several specialty treatments, like sleep apnea therapy to help improve his patients' quality of life. To learn whether you can benefit from custom-tailored sleep apnea treatment, visit Ponte Vedra Complete Dentistry's website or call 904-285-7711.