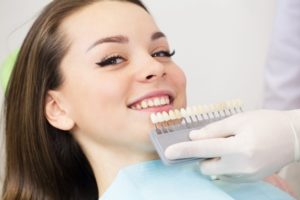 Veneers in Ponte Vedra Beach are one of the most popular cosmetic treatment options around—they're easily able to completely transform a compromised smile! However, the process for receiving them isn't as simple and straightforward as other options; patients are often given a set of temporary veneers before they receive their permanent ones. Here's what you need to know about this step and three reasons why it's an important part of the process.
#1. They Protect Your Teeth
In order for your veneers to fit properly against your teeth, your dentist needs to remove a tiny amount of your enamel. However, since your enamel doesn't grow back on its own, it's worth mentioning that this part of the process is irreversible, and teeth being treated in this manner will always need to have veneers. This means that your newly modified teeth will need to be protected until your permanent veneers are ready, which is where temporary veneers come into play. They ensure that your natural teeth remain safe and sound until the permanent solutions are placed.
#2. They Serve as a "Test Drive"
If you've ever bought a new car, you probably took it for a test drive before finalizing the purchase and signing the papers. Similarly, temporary veneers serve as a test drive and allow you and your dentist to ensure that your mouth can handle your new solution. They allow you to experience how the veneers feel before they're placed, giving your dentist the chance to make precise adjustments as needed. If something needs to be made smaller, larger, whiter, or shaped differently, it can be figured out before the permanent veneers are bonded. Since veneers are intended to last for several years, having all of the measurements calculated beforehand is wise—and temporary veneers assist with this!
#3. They Preview Your New Smile
Veneers are a life-changing investment, and your dentist wants you to feel confident about your decision. During the brief period that you're wearing your veneers (usually no longer than a couple of weeks), you'll get to experience what your new smile will look like. If something looks off, your dentist can ensure that it's corrected by the time your permanent veneers are placed. It would be a little scary to jump headfirst into cosmetic treatment without having any idea what the end-result looks like; temporary veneers can give you all the encouragement you'll need.
If you're on the fence about getting veneers, knowing how the process works can help you feel comfortable about receiving them. Although temporary veneers might seem like a hassle and prolonged part of the process, they're undeniably valuable concerning how they set up your veneers for lasting success!
About the Practice
Ponte Vedra Complete Dentistry serves the dental needs of patients and families in the Ponte Vedra Beach area. The practice is led by the awesome team of Dr. Kristopher R. Harth and Dr. Eric L. Townsend. They combine several years of experience to provide their patients with an exceptional level of dental care. If you have any questions about veneers or any other dental treatment, or if you'd like to arrange a visit, feel free to contact the practice through their website or over the phone for assistance: (904) 285-7711.