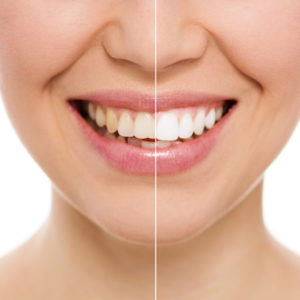 According to MSNBC, Americans at this time spend over $1.4 billion annually on over-the-counter teeth whitening products. In addition to this, we spend increasing amounts whitening teeth at the dentist as well as the new "whitening spas". This is an incredible amount, but is it working?
At Ponte Vedra Complete Dentistry, we are dedicated to patient education. We want you to know that there are remedies for your specific dental complaints.
What are the Reasons for the Discoloration of Teeth?
Intrinsic stains – these stains reside on the innermost parts of the teeth. They can be caused by reasons such as genetic development, childhood antibiotic staining, and normal aging.
Extrinsic stains – these are located more on the outer aspects of the teeth. These stains are often easier to correct. Some causes of extrinsic stains are coffee, wine, and other staining drinks, tobacco, and accumulation of debris from normal or abnormal causes.
How Can I Prevent This?
Many stains and discolorations can be prevented by proper maintenance.  This includes following the proper home care.  If you would like to learn more about how to properly brush and floss, feel free to read our blog article regarding this.
Do Dental Cleanings Help?
Some stains and discolorations can be corrected by a simple dental cleaning. Ultrasonic cleaning, hand instrumentation, and polishing can eliminate many extrinsic stains. Dental cleanings, however, cannot remove all of the stains that teeth can accumulate. In these cases, additional measures listed below must be taken.
Does Whitening Work?
Some of the stains that cannot be simply removed by a cleaning can often be corrected by teeth whitening procedures. These procedures can eliminate many extrinsic and intrinsic stains. Over-the-counter products can be useful. There are limitations to these products. The two largest drawbacks to these products are;
The whitening trays that are supplied by these products are not professionally made. This will lead to a non-uniform application of the whitening solution and non-uniform whitening results.

When using an over-the-counter product, you are not supervised by a dental professional. Results should be monitored to obtain optimal results. In addition, dental restorations do not whiten like natural teeth. Dental composites, veneers, and crowns can often stand out after a whitening procedure.
What if Whitening and Cleanings Do Not Correct the Staining and Discoloration?
Some stains and discolorations will never be corrected by the above measures. Childhood antibiotic caused staining, some genetic causes, and other stubborn stains can be resistant to these measures. There are still options in these cases. One of the many splendors of veneers are that they cover up misaligned, discolored, stained, or misshapen teeth. In some instances, veneers are not sufficient and dental crowns are indicated. Cosmetic dentistry is a broad segment of the dental profession and amazing things can be accomplished.
If you would like to speak with someone regarding your individual dental condition, feel free to call us at (904)285-7711 or contact us online.